All of my Challenge Sign ups are going in one place...it's safest that way!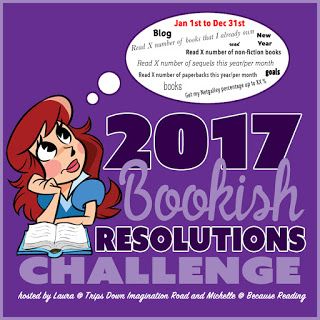 This one is the challenge I host alongside Michelle @
because reading
, and let's face it, it's also the one that I do the worst on! I think it *could* be because I'm too hard on myself, but we'll see! Click
here
to sign up! (Don't forget you set your own goals in this one!)
Reading Goals
Get my Netgalley rating up to (at least) 50%...let's just say I'm not as far away as I was fro this, but it's still going to mean a lot of Netgalley books!
Read 5 books a month that were on my Kindle at the beginning of the year
Read 1 Paperback a month (may sound like a small challenge, but trust me, this one is massive for me! I'm not very good at reading paperbacks anymore!)
Blogging Goals
Write posts in advance! Meaning sooner than the night before...
Visit other blogs at least once a week (not that I did well at this one last year, but maybe it is doable if I keep going!)
Create (and keep up to date) a 2017 Review schedule including costs and ratings
Writing Goals (< FYI this section is new this year!)
Finish 5 first drafts (setting the bar high on this one!) whether new stuff or WIP!
Publish 3 books (again, setting the bar a bit high, but I need the motivation!)
Join NaNoWrMo again! (I finished it by the skin of my teeth in 2016, so we'll make this goal also to finish before the 30th and not on the 30th!)
FYI, I'm skipping the personal goal this year! I just can't think of anything and previously I've used that to put a writing goal in...which I don't need anymore!
Hosted by Michelle @
because reading
and Berls @
Fantasy is More Fun
Right, time to be super harsh on myself with the books I have on my Kindle but actually should really get around to reading! As normal, I'm making things difficult for myself and am going for the 4 books a month option - it really helps me clear through the books I should read but keep putting off! You can sign up
here
!
Blood Healing by KJ Colt
Blood Sacrifice by KJ Colt
Omega by Lizzy Ford
Theta by Lizzy Ford
Riot of Storm and Smoke by Jennifer Ellision
Fall of Thrones and Thorns by Jennifer Ellision
Dreamwielder by Garrett Calcaterra
Snow's Lament by S E Babin
The Syndicate by Sophie Davis
Glass Sword by Victoria Aveyard
Cruel Crown by Victoria Aveyard
Lastland by A R Ivanovich
Monarch by A R Ivanovich
Paperglass by A R Ivanovich
Bad Romeo by Leisa Ryven
Broken Juliet by Leisa Ryven
Cinderella's Dress by Shona Slayton
Cinderella's Shoes by Shona Slayton
Marcus by Anna Hackett
Wandering Soul by Cassandra Chandler
Back in Play by Lynda Aicher
Penalty Play by Lynda Aicher
Travel Glasses by Chess Desalls
Insight Kindling by Chess Desalls
Siren's Fury by Mary Weber
The Copper Witch by Jessica Dall
The Ice Goddess by Hannalore More
A Court of Thorns and Roses by Sarah J Maas
After the Ending by Lindsey Fairleigh & Lindsey Pogue
Deviation by Heather Hildenbrand
Cinderella and the Ghost by Marina Myles
See Me by Susan Hatler
That Risen Snow by Rob E Boley
Under My Skin by Shantelle Madison
Leading Her Witness by Cheryl Ann Smith
Shattered Witness by Anna DeStefano
Crane by Stacey Rourke
Her Wicked Captain by Sandra Jones
Reign of the Vampires by Rebekah R Ganiere
Fire Rising by Donna Grant
Burning Desire by Donna Grant
A Hero for the Empire by Christina Westcott
Call of the Dragon by Elianne Adams
Trial by Fire by Josephine Angelini
His Secret Superheroine by Patricia Eimer
The Hidden Blade by Sherry Thomas
Dark Child by Adina West
Swan Prince by Erin Lark
Hosted by
Stormi @
Books, Movies, Reviews Oh My! and Lexie @ (un) conventional book reviews. This year I've managed to read 105 new releases so far, so for 2017 I'm going to go for New Release Enthusiast 101-200 Books, seems pretty doable right? You can sign up for this challenge here!
I'm definitely excited for this one! Maybe this year, I'll finally actually manage to clean out my e-reader rather than ending up just adding to it! Though who am I kidding, that will still happen too! Go over to the
COYER website
to learn more!