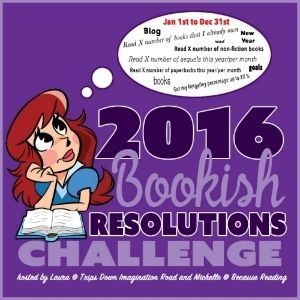 Bookish Resolutions is a challenge I co-host with Michelle @ becausereading.com! Yet another month has passed! So let us know how you did this August!
My Bookish Resolutions Progress (which is way behind where I should be!)
Schedule posts before the day they are 'due' (especially for challenge updates!)
I'm not quite a month ahead review wise, and so far I haven't had to scramble this month for memes and challenge updates (though I also haven't put the finishing touches to it!)

Post a detailed update on everything on the first Sunday of each month (previously

Reintroduce non-review content)
I changed this one before I went back to posting weekend reviews when my reading picked up again, but my End of the Month round up is still on track, just for the 1st of the month!
Cross post Blog Posts regularly, preferably in under a week since post date
I let this one slip a little while I was in Germany, but appear to have picked it back up!
Tidy up the Trips Down Imagination Road Facebook & Twitter Pages
This one is going, mostly because I decided I was pretty happy with where I'm at with it.
Visit other blogs regularly (I used to but this dropped off the radar a bit)
I may have been guilty of lurking a bit but I need to get back on top of this one!
COMPLETED: Improve Netgalley ratio by at least 10% (if this is achieved by the half way mark then it will be upped to 20%). I did succeed in improving my ratio in 2015 and was actually quite surprised to find I'd improved it by 7% (at the time of writing).
Not going to lie this one surprised me when I just checked my ratio! Of course I have only just hit 10% so I could still lose this one!
COMPLETED: Finish 10 series this year. (I get distracted a little easy! I can have already started the series previously)
So far I've finished 18 series this year;
The Reckoners by Brandon Sanderson, Circle of Evil by Kylie Brant, Trevor's Harem by Aubrey Parker, Rook & Ronin by JA Huss, The Seduction by Roxy Sloane, City of Legends by Cheyanne Young, The Winner's Trilogy by Marie Rutkoski, Galaxy Playmates by Michelle M Pillow, Dark Dirty & Deadly by JA Huss, The Dukes of War by Erica Ridley, Everealm by JD Wright, I Am Just Junco by JA Huss, Things to Do Before you Die by Nina Croft, Sisters of the Moon by Nina Croft, Coded for Love by Lynne Silver, Aurora Sky: Vampire Hunter by Nikki Jefford, Midnight Masquerade by Kate Harper, Scoundrels & Secrets by Erica Ridley
COMPLETED: Complete 3 year long challenges (may change the number depending on how many I sign up for). Bookish Resolutions does not count for this sub-goal.
I've completed 4 so far!
2016 Prequel & Sequel Challenge, 2016 New Release Challenge, 2016 Netgalley & Edelweiss Challenge, 2016 Blogger Shame
My others are all on track too!
Read 3 books a month that were already on my kindle at the start of 2016 (can be from Netgalley, Amazon etc.)
I think I've read 9!
COMPLETED: Finish Cloaked (the sequel to my published Novella)
Cloaked is not only finished, but it is now Published! (Here's the link to prove it!)
LINK UP AND TELL US HOW YOU DID!