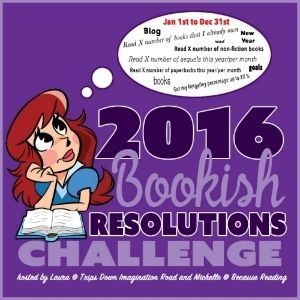 You can check out the rules and stuff here! Bookish Resolutions is co-hosted by myself and Michelle @ because reading
Blogging Goals
Schedule posts before the day they are 'due' (especially for challenge updates!)
I did so badly at this it's untrue. Especially considering I failed out of about two weeks worth of reviews anyway.
Reintroduce non-review content
I've been taking part in a new meme, a Book's Genisis, which has been fun, but I really need to start posting more non review content.
Cross post Blog Posts regularly, preferably in under a week since post date
Again...fell off the radar for two weeks so don't think I can say I did okay here!
Tidy up the Trips Down Imagination Road Facebook & Twitter Pages
I did do some editing of these...honest!

Visit other blogs regularly (I used to but this dropped off the radar a bit)

Yeah...sorry everyone will get better again!
Reading Goals
Improve Netgalley ratio by at least 10% (if this is achieved by the half way mark then it will be upped to 20%). I did succeed in improving my ratio in 2015 and was actually quite surprised to find I'd improved it by 7% (at the time of writing).
Still hovering at gaining 5% so far this year, so it's going ok!
Finish 10 series this year. (I get distracted a little easy! I can have already started the series previously)
So far I've finished 10 series this year; The Reckoners by Brandon Sanderson, Circle of Evil by Kylie Brant, Trevor's Harem by Aubrey Parker, Rook & Ronin by JA Huss, The Seduction by Roxy Sloane, City of Legends by Cheyanne Young, The Winner's Trilogy by Marie Rutkoski, Galaxy Playmates by Michelle M Pillow, Dark Dirty & Deadly by JA Huss, The Dukes of War by Erica Ridley
Complete 3 year long challenges (may change the number depending on how many I sign up for). Bookish Resolutions does not count for this sub-goal.
I've completed 1 so far (Prequel & Sequel) but I'm on track with the rest of them!
Read 3 books a month that were already on my kindle at the start of 2016 (can be from Netgalley, Amazon etc.)
As far as I can tell...I managed 4
Personal Goal
Finish Cloaked (the sequel to my published Novella)
Cloaked has gone off to the editor!
How are you doing? Link up and let us know!