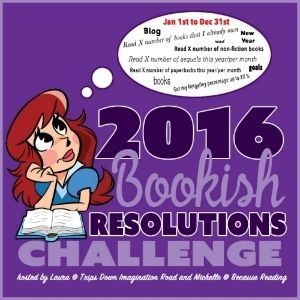 You can still sign up for Bookish Resolutions and you can check out the rules and stuff here! Bookish Resolutions is co-hosted by myself and Michelle @ because reading
First I want to apologise for dropping the ball with the twitter party...and by that I mean completely forgetting about it...oops! Sorry folks, I'll remember the next one!
Blogging Goals
Schedule posts before the day they are 'due' (especially for challenge updates!)
This month has been really tough because of other commitments, and a change in my job role is now going to mean changes on the blog anyway!
Reintroduce non-review content
This is not going so well. However I am now going to cut back reviews to weekdays and have the weekends as other content time! This will mean that End of the Month Round Ups will also now go live on weekends.
Cross post Blog Posts regularly, preferably in under a week since post date
I've not done too bad, but I still need to do better on that.
Tidy up the Trips Down Imagination Road Facebook & Twitter Pages
I've started trying to use twitter more, so this is starting!
Visit other blogs regularly (I used to but this dropped off the radar a bit)
I definitely need to do this more.
Reading Goals
Improve Netgalley ratio by at least 10% (if this is achieved by the half way mark then it will be upped to 20%). I did succeed in improving my ratio in 2015 and was actually quite surprised to find I'd improved it by 7% (at the time of writing).
I've gained 5% so far this year, so it's going ok!
Finish 10 series this year. (I get distracted a little easy! I can have already started the series previously)
So far I've finished 7 series this year; The Reckoners by Brandon Sanderson, Circle of Evil by Kylie Brant, Trevor's Harem by Aubrey Parker, Rook & Ronin by JA Huss, The Seduction by Roxy Sloane, City of Legends by Cheyanne Young, The Winner's Trilogy by Marie Rutkoski
Complete 3 year long challenges (may change the number depending on how many I sign up for). Bookish Resolutions does not count for this sub-goal.
I've completed 1 so far
Read 3 books a month that were already on my kindle at the start of 2016 (can be from Netgalley, Amazon etc.)
I think I read 15, so yep hit that one out of the park!
Personal Goal
Finish Cloaked (the sequel to my published Novella)
Cloaked draft one is finished, but I've been working on something different this month!
How are you doing? Link up and let us know!