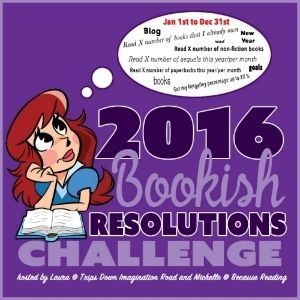 Blogging Goals
Schedule posts before the day they are 'due' (especially for challenge updates!)
Actually doing really well on this one! I'm ahead with everything so far, though there are certain posts (like The Sunday post) that I do the night before.
Reintroduce non-review content
Ignoring memes, I've had one non-review post this month.
Cross post Blog Posts regularly, preferably in under a week since post date
I've managed to get myself into a habit of cross posting as soon as I get in from work, which seems to be working!
Tidy up the Trips Down Imagination Road Facebook & Twitter Pages
Not started this one yet.
Visit other blogs regularly (I used to but this dropped off the radar a bit)
I'm doing better...still got work to do though!
Reading Goals
Improve Netgalley ratio by at least 10% (if this is achieved by the half way mark then it will be upped to 20%). I did succeed in improving my ratio in 2015 and was actually quite surprised to find I'd improved it by 7% (at the time of writing).
So far I've managed to improve my ratio by 2% so there's definitely some hope!
Finish 10 series this year. (I get distracted a little easy! I can have already started the series previously)
Don't think I've finished any yet, but I will have done by the end of the year.
Complete 3 year long challenges (may change the number depending on how many I sign up for). Bookish Resolutions does not count for this sub-goal.
Well...I haven't failed this one yet.
Read 3 books a month that were already on my kindle at the start of 2016 (can be from Netgalley, Amazon etc.)
I haven't actually counted how many but it's way more than 3!
Personal Goal
Finish Cloaked (the sequel to my published Novella)
I finished my first draft! Which is a massive step and I have some hope!
Link up now and let us see your progress!