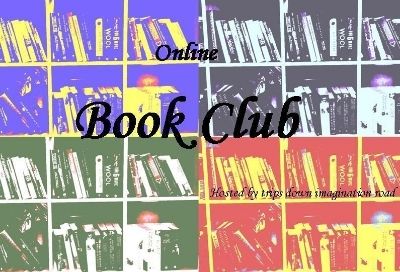 Remember to keep up to date with the hashtag!
#internetbookclub
Genre: Urban Fantasy, Mature YA
If there is one thing eighteen-year-old Aurora Sky wants, it's to get off the iceberg she calls home. Being kissed before she graduates wouldn't hurt either.
Then a near-fatal car wreck changes everything. Government agents step in and save Aurora's life in exchange for her services as a vampire hunter. In Alaska. Basically she's a glorified chew toy. All thanks to her rare blood type, which sends a vampire into temporary paralysis right before she has to finish the job... by hand.
Now Aurora's only friends are groupies of the undead and the only boy she can think about may very well be a vampire.
(Mature YA, new adult series that becomes progressively more mature. Underage drinking, sexual situations, mild language and blood sucking.)
Link Up Here! I've posted the link up a bit early because i know that people may be busy over Christmas!
January's Books:
Almost everyone has a secret. Secret pasts, secret lives, secret fantasies.
A talented fashion designer poised on the brink of international stardom makes the gut wrenching decision to leave the world she loves and walk away. In order to protect herself from a brutal husband, she must assume a different identity. But who does she really want to be?
A young prostitute decides enough is enough and breaks free from her pimp, only to embark on a life much more dark and sinister than the one she's leaving behind. Along with an unlikely partner, she will do just about anything for money. Then her life takes a turn she would have never expected.
A middle aged widow enjoys the successes of the winery she helped build. Things begin to change when a new employee arrives, suddenly threatening her position. But who is this young, mystery woman? She decides to find out, while trying to keep her own agenda and salacious activities deeply hidden.
All three women have one person in common; a successful, wealthy businessman who's life has been forged by the unfortunate incidents that happened in his life. Undeniably gorgeous, rich and privileged, he is used to getting what he wants. Until a chance encounter turns his world upside down.
Kept Secrets is set in the heart of Northern California's beautiful wine country, where almost everyone has a secret to tell. Some secrets are revealed, some are buried forever and some will become more costly than they are worth.
Genre: Historical Romance
He was the last man she needed, but the only one she wanted.
Orlando Holt has never assassinated a woman before. The lovely, feisty Lady Lynden will be his first. She's supposed to be a vicious murderess, but when Orlando begins to have doubts, he sets out to discover the identity of the person who hired him. What he learns will turn his world upside down, and propel him headlong into love with a woman who's immune to his charms.
Twice widowed by the age of twenty-four, Lady Susanna Lynden has had enough of charming men. Her last husband knew all the right things to say to get her to the marriage bed…then made her life miserable. Money may be scarce and her house falling down around her, but the exotic fruit from her orange trees will keep poverty away. Except someone is thwarting her at every turn. Someone who may even want her dead.
Released: October 2012 (revised 2015)
A virtual reality simulation played by over a billion children around the world. The best players are celebrities, adored and worshiped by countless fans. Zack is a superstar among players.
His final play may change the world, forever...
Please Vote for the Book You Want to Read!
Create your own user feedback survey
If you want to grab the button then you can use this code:
<div align="center">
<a href="http://a-reader-lives-a-thousand-lives.blogspot.co.uk/" rel="nofollow" title="trips down imagination road"><img alt="trips down imagination road" src="http://i1328.photobucket.com/albums/w521/tdir_blog/b1e59a89-03a8-4cf0-9892-4a7e1e3ff48c_zpsizpcidyp.jpg" style="border: none;" /></a><br />
<br />