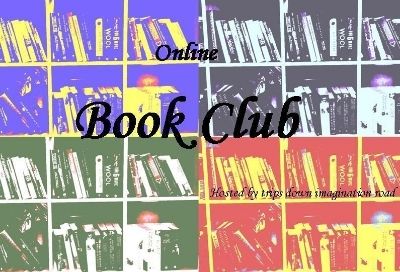 This is my working logo (and if you look a really closely a nosey at a part of my book shelves!). Firstly thank you to everyone for your input when I pitched the idea! I honestly thought I might be completely alone in wanting to do something like this!
So...
How It Works:
On the 1st of the month (or in September's case the 8th!) I'll be posting a vote consisting of three books, all different genres. The winner of the vote will be posted on the 1st of the following month...
i.e. Today I'll post a three book vote, the winner of that vote will be announced on 1st September along with the three book vote for November's book.
There'll be a linky to post reviews to in the last week of the month (so in September's case this would be the 23rd-30th if we had a book, whereas October will be the 24th-31st) and in that time we can start chatting about the book on twitter ( #internetbookclub - I checked the hashtag and its used once every few months by one person! So we should be ok!)
For the first couple of months I'm sure I'll be streamlining anyway, so any suggestions then fire away :-)
The Books:
This is the none-free book on the list (I'm aiming to have one none-free book on each vote).
Genre (according to Amazon): Romantic Comedy
Release Date: 30th July 2015
Sloane is planning parties with her four best friends so she should be in total and utter heaven as most of their clients have limitless budgets and limited imaginations allowing the girls to create some pretty wonderful events. Suddenly someone is out to ruin their reputation and even better see them dead. Scrabbling to keep ahead of the mayhem means some quick thinking from the fabulous five. The threats begin to get really scary and really real when they are confronted with a murder. Where will it all end? Will the girls ever be able to look at a cupcake ever again?
Planning a party does not necessarily mean everything will go to plan.
Doing what you love for a living should make each day a joy so why are the girls running scared?
As far as Lola knew she had not put murder on the menu for this fabulous summer party.
Some say doing everything in high heels is more of a challenge.
Halloween Magic & Mayhem by Stella Wilkinson
(Goodreads)
Genre (according to the synopsis): Paranormal Comedy
Genre (according to Amazon): Horror > Occult
Release Date: 2nd January 2014
How on earth did I end up here? I was supposed to be at a party kissing the boy of my dreams, instead I'm dancing naked on the town common, on Halloween, with a Coven of strange women who might be witches, a bunch of zombies that I have to return to their graves, a talking crow, and my pet ghost thrown in for good measure. Just yesterday I was an ordinary teenager…
On her sixteenth birthday Emily Rand discovers that she is a witch. Unable to control her spells she unwittingly raises zombies, and corporealizes the ghost haunting her house. She finds herself in a race against time to put everything right if she has any hope of getting to a certain Halloween party and seeing a certain boy again.
Halloween Magic and Mayhem is a young-adult paranormal comedy romance. Magic & Mayhem Series, Book One
This book is free.
Genre (according to Amazon): Fantasy
Genre (according to sub-title): Post Apocalyptic Fantasy
Release Date: 16th September 2011
Start your adventures with Malja in this action-packed, post-apocalyptic fantasy!
In a parallel world destroyed by magic, one woman fights all odds to survive and find the answers behind her mysterious past.
Malja searches for the two magicians who stole her at birth, trained her to be a killing machine, and then tossed her away at ten. She wants to know why this happened and most importantly, who she really is.
But facing unrelenting challenges - crazed magicians, guitar-playing assassins, mutated beasts - she pushes through with a single-mindedness that may destroy all she holds dear.
The Vote!
Create your own user feedback survey
If you want to grab the button then you can use this code:
<div align="center">
<a href="http://a-reader-lives-a-thousand-lives.blogspot.co.uk/" rel="nofollow" title="trips down imagination road"><img alt="trips down imagination road" src="http://i1328.photobucket.com/albums/w521/tdir_blog/b1e59a89-03a8-4cf0-9892-4a7e1e3ff48c_zpsizpcidyp.jpg" style="border: none;" /></a><br />
<br />