Real Life
HAPPY NEW YEAR! I can't actually believe that it is 2015! So I didn't feel like I got that much reading done this week, and yet actually I have (though not as much as normal!) The main thing I did this week though was go out in Birmingham for New Year, (that's where I went to Uni) and went out with my Uni friends! We had a great night (or at least I think we did!) though I broke my camera and have A LOT of bruises as proof of the night. Almost as good was the next day when we all vegged out in front of the TV eating crap food and bantering! There's never a dull moment with these girls and I love them all for it!
Me (in the blue) with three of the Girls (we never actually managed to get a picture of all 6 of us this time round)
Read This Month
So I had a little bit of a moment this week and felt bad because I only read 6 books...then I realised, I read 6 books and that's still a lot, so actually I just have a problem! Stand out book of the week definitely goes to Shattered Bonds, the last in the Wicked Play series it had me in tears, I basically had no idea that I cared about the characters just as much as I apparently do.
Scorned: Amazon
Agent S5 Jaydan: Blog Tour
Shattered Bonds: Netgalley
Barbarian Prince & Owned by the Alphas 1: Review Copies
Guilty Pleasures: Netgalley
Reviewed this Week:
Taking Karre
: Review Copy
Tea for Three:
Netgalley
Bonds of Desire:
Amazon
Bonds of Denial: Amazon
Barbarian Prince& Luck of the Dragon: Review Copies
Awakening: Amazon
Other Posts
Challenges
Goodreads:
So I beat last years target, reading 474 books out of my challenged 365 (yeah crazy I know). So this year I've gone for a challenge of 450 books, I'm being a little on the concervative side there because I'm not too sure what's going to happen this year, and so don't want to over challenge myself!
Laura
has read 0 books toward her goal of 450 books.

Laura
has completed her goal of reading 365 books in 2014!
Bookish Resolutions:
Has now kicked off! So excited by that, there's still time to join if you check out my blog or Michelle's!
This week I've read 1 book that goes towards my resolutions: Guilty Pleasures by Jane O'Reilly (resolution 3: Read at least 6 Netgalley books a month). I have also done some work towards resolution 5 (completeing a writing project) so it's not too bad!
Winter COYER:
This week all 6 of the books I've read count towards Winter COYER, and I've posted 3 reviews that count (Taking Karre, Barbarian Prince and Luck of the Dragon).
Read: 15/80 books
2015 Netgalley and Edelweiss Challenge: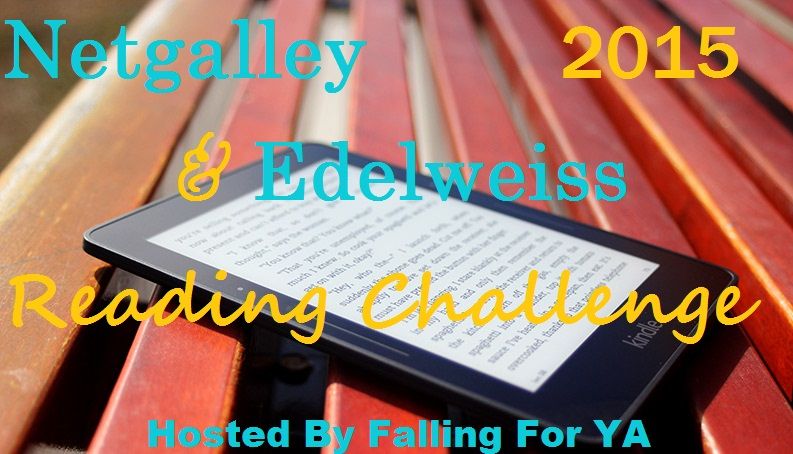 I've read 1 book towards my goal of 75 books (Guilty Pleasures) this week.
Read 1/75 Books