I received a copy of
Awakening
in exchange for my review.
Lilly's mother died 2 years ago at the hands of James Derrick, something that Lilly has never been able to forget. Her father, Hugh is determined to set her up with someone of the right social status, but Lilly doesn't want that, and gets engaged to Ethan as a way of putting her finger up at him. But then she meets Torren, a mysterious man who she feels instantly attracted to, with things going down hill with Ethan, Lilly can't help but want answers to the questions she has about the mysterious Torren, even if those answers do scare her.
I was gutted when
Awakening
ended, I wanted to keep reading and find out more about Lilly and Torren, not just for their relationship but for the other things as well. Particularly because Lilly does seem to have an interesting violent streak, which taken in conjunction with some of the other central pieces of the plot could end up with a very interesting story arc.
There were several minor characters in
Awakening
as well as Lilly and Torren, though some of those, such as Lilly's father Hugh, weren't expanded on nearly as much as most (such as Lilly's mother, Charlotte, who was dead for the entire book). This did mean that the final scene of the book lost a bit of its emotional punch, but there was still enough of a back story for it to work.
Lilly got into sexual situations with two characters in the book; Ethan and Torren. The whole point of her relationship with Ethan was it being methodical and a routine, and the author did try and convey that in the sex scenes between Lilly and Ethan. And I think that she managed, there was no chemistry or excitement between the two of them, unlike between Torren and Lilly, where even the smallest act seemed to be full of that fizz of attraction.
Awakening
is a short read, but I would definitely recommend it, I was hooked til the very end and definitely want to read more!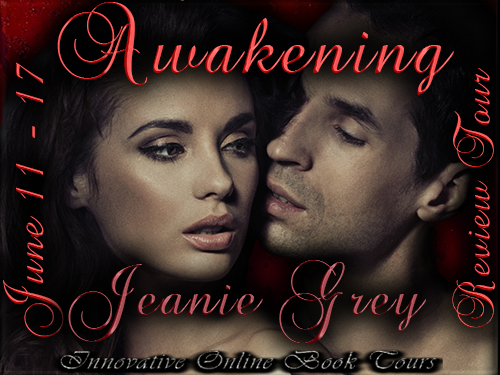 Two years ago, Lilly Frank's mother was brutally murdered--and the killer set free. Since then Lilly has worked hard to create a safe and stable life for herself. But she's thrown off balance when she meets Torren Frisk, a handsome stranger whom she finds both irresistible and frightening. As she spends more time with Torren, Lilly's growing attraction to him threatens to unravel her world. Will she discover his secrets before the life she's worked so hard to build comes crashing down on top of her?
·
Amazon
http://www.amazon.com/Awakening-Lilly-Frank-Series-Jeanie-ebook/dp/B008RYSZJE/ref=sr_1_1?ie=UTF8&qid=1397925692&sr=8-1&keywords=Jeanie+Grey
a Rafflecopter giveaway