Firstly I would like to thank all of you that have supported me in writing Awakening, and all of those people that have agreed to help me host my release day blitz! You are all awesome (but I am still nervous to read what people think of my novella!
The Story of Awakening
I figured that on my own blog I'd tell you the story of just how Awakening came about...so
Awakening
was first a short story for a
Halloween Short Story Hop
, I had ideas for several fairy tales, but Sleeping Beauty was the one that stuck with me and developed into a short story. I then wrote several more short stories from the point of view of Maia (the narrator of the original short story) which are all a part of the
Awakening Short Story Collection
(
Goodreads
-
Amazon US
-
Amazon UK
). But Maia took another journey in the novella...
Once I had started expanding my short story, and actually got beyond the room she was awoken in, Maia and her story changed dramatically. Gone was the slightly dark and sadistic character that seemed to be coming through in the short stories, and instead a naive but easily adaptable Princess was born. That was when I knew I had to change her name, though they had the same start, Maia and Keira are too very different characters.
The story took such a different turn from what I had originally planned that I've had to rethink where I'm going with it! Not to mention that I ended up introducing two fairy tale characters who hadn't made an appearance in the short stories, Hansel and Gretel (and my head is already planning the best way to tell Gretel's story, bits of it are told in Awakening, but there is much more to it). And so Awakening as it is now was born...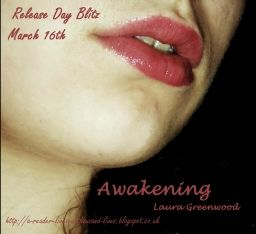 About the Book:
Cursed before she was even born, Keira is destined to either be the greatest Queen that the Kingdom has ever known...or the Worst. On her 18th birthday she falls into a deep sleep, if she awakens naturally after 100 years then she will be as human as she was before, but if she was awoken before then the consequences will be vastly different...
When her destiny is one of two opposites, which path will Keira's life take her down. And what choice will she have in the direction.
Sleeping Beauty with a paranormal twist!
About the Author:
Laura is a self confessed book and tea addict, you will rarely find her without one or the other (and often times both) even when she should be doing work towards her degree! Laura's been reading from a young age, and has been writing for years, though Awakening is the first thing she has had the courage to publish!
Check out the Other Blogs Participating in the Blitz for reviews, interviews, guest posts: