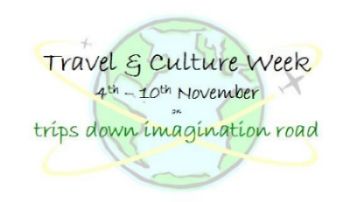 Now you may be asking yourself, what right does a 21 year old have to write about Travel & Culture really, I mean what could she possibly know. Well in some ways you would be right, I simply don't have the life experience to write about it...which is why I have some fantastic authors contributing to the week, through reviews, interviews and guest posts, as well as two fantastic giveaways!
Want to see where I have visited?
Of the countries above I have only visited one state (Florida when I was 10) but I have lived in two. My country of birth, England (well the United Kingdom on here - I have visited the other parts) and France. As you may be able to guess, this does mean that I have a decent level of French at my disposal (I am doing a degree in International Business and French, I've just started my final year) and know quite a bit about French culture.
In fact, I'm even doing my final year dissertation on patisserie! My favourites are Pain aux Raisons and Macaroons, I've even converted my brother to them both! Here is a photo that I took while I was living in Paris, it was taken last January of Sacré Coeur, which you could see a tiny bit of out of my window! Not this view though I'm afraid!
Since I took it, I have been ridiculously proud of this photo! The other photo I wanted to share was one from when I went to Lanzarote in March, this was the first time I had ever been snorkling, and we had the whole shebang, even down to going off the boat backwards! I absolutely loved doing it, and would again in a heartbeat!
And now, the bit that you probably want to know about the most...the giveaways! These are going to be running for the entire week, and you can enter one or both as you want! I would like to thank both of the authors for their kind support of my week!
a Rafflecopter giveaway
a Rafflecopter giveaway