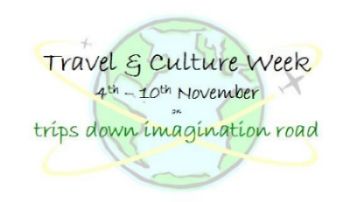 When author, Stephen Clarke, agreed to answer some of my questions for Travel & Culture Week, I got very excited, as well as having read one of his fiction books, I have read most of his non-fiction (links to my reviews, and links to Stephen Clarke's website, Amazon page and Goodreads are below), and one of them even helped me to decide on my dissertation topic! My copies of
1000 Years of Annoying the French
, and
Paris Revealed
, both of which I read while living in Paris, have been passed around by most of my family, who I've also managed to get to become fans of Stephen Clarke!
What made you switch from writing just fiction, to writing non-fiction as well?
My publisher asked me very nicely. Though I'd been working in journalism before, which is usually a mix of
fiction and non-fiction, so I was prepared. The first non-fiction book I wrote was Talk to the Snail. I got the idea for that from writing about the lost Englishman in Paris, Paul West. It's meant to be everything I know about the French that I can never tell him, otherwise he'll escape from the merde and I won't be able to write any more novels about him.
Do you prefer writing fiction or non-fiction?
Fiction is great because you can write whatever you want. Sometimes the truth can be frustrating. Fiction is just a polite word for lying or joking, which can both be fun. The best thing about non-fiction is that the plot is there for you - you don't have to think it up. And I also love digging out little-known true stories that are often wilder than fiction. That was especially true for 1000 Years of Annoying the French and Paris Revealed.
Where's the most interesting place you've visited?
Depends what you mean by interesting. The coral reefs off the Pacific coast of Panama were very interesting because of all the fantastic wildlife there, including a shoal of squid and giant manta rays. The WW1 cemeteries in the north of France are interesting because you can go from grave to grave, looking at the names, ages and regiments of the soldiers who died (usually men joined their local regiment with all their mates), imagining their tragically shortened life stories.
What's your favourite place in Paris? (Mine was standing by the railing next to Sacré Coeur when all the tourists had gone home and looking out onto Paris, it was my closest landmark)
Almost any café terrace on a sunny day. My favourites would have to be in the north of the Marais, near République. It's an old part of town, but not swamped with tourists like the southern end of the Marais. This is where a lot of the action in my latest novel The Merde Factor is set. Paul West helps a friend set up a trendy bookshop there, and he goes on a tour testing out the cafés.
How much of your character, Paul West, is based on your own experiences in France?
64.3%. I had him tested by France's National Institute of Literary statistics. I gave them al my novels and a blood sample and they came up with the figure. It means that any even in the novels has a 64.3% chance of being true. On average, of course, so it could vary between zero and 100% Does that help?.
What is your favourite French word?
Merde, of course. It's taken me through five novels so far. And as well as its literal poop meaning, it also means good luck. Before an actor goes on stage, people will say "merde!". It's a multi-use word, a sort of Swiss penknife in the French language.