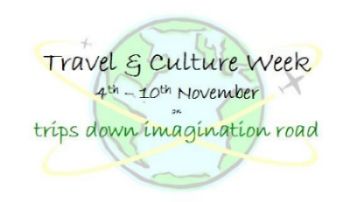 Today's post is a fantastic Guest Post from Carolyn Steele, all about Canadian Thanksgiving!
Also, Carolyn has very kindly put a promotion on the kindle version of her book,
Trucking in English,
and it will be free from today on amazon for a limited time only! Go get a copy on
Amazon

UK
or
Amazon
!
Pumpkin Pie.by Carolyn Steele
Did you know that Laura's Travel and Culture Week falls neatly between the two North American Thanksgivings? Canadians gave thanks at the start of October and the US will do so in another couple of weeks. As a Brit, I'm quite proud to have remembered this at all, let alone be able to pinpoint the difference, so I feel obliged to write about unexpected festive complications.
Other people's traditions take a bit of practice and Thanksgiving has been one of my biggest problems as an adopted Canadian. Maybe you have to grow up with holidays to really 'get' them, I'm still baffled by the Canadian insistence on celebrating Queen Victoria's birthday with a long weekend and fireworks in May. When I tell them we save our fireworks for the chap who failed to blow up Parliament, they think I'm joking. But then I thought they were joking about Groundhog Day, at least I'd heard of Thanksgiving but I wasn't expecting it to be, well, huge.
I know Brits do have a sort of harvest festival but it's restricted to little food drives at churches and schools isn't it? Not that there's anything wrong with that, I'm sure that receiving your autumnal box of tinned rice pudding, pineapple chunks and an apple is very nice for those elderly folk brave enough to open the door to a gaggle of schoolkids. It's just not very exciting, no family gatherings for a start. Or turkey dinners.
When I explain this to Canadians they assume we English go short of pre-winter celebrations, so I remind them about the Guy Fawkes thing and insist that we are most festive about it. I explain that this is our time for firework displays, bonfires and sausages you can write with, but that we save our major family feastings for Christmas. Which is why, when I was invited to a friend's home for Sunday dinner earlyish in the October of our first year here, I accepted the invitation happily enough but had no inkling that anything special was going on.
It must have been half-way through the Saturday when some kind soul scanning my groceries made a little polite conversation. 'So, are you going anywhere nice for Thanksgiving Dinner?' My face must have been a picture of incomprehension. She said it again more slowly, just in case I didn't speak English. 'Um, yes, I think so,' wasn't the wittiest riposte in the circumstances but I suddenly had a lot of processing to do, and an urgent phone call to make.
'This Thanksgiving thing, is it, you know, sort of a special meal?'
And do you know what? It turned out that we had, indeed, been invited for a special meal. Apparently turkey was usual but the tradition in my host's establishment was for ham and scalloped potatoes.
'How nice, what can I bring? How about dessert? Have you made dessert yet? Good, leave it to me.' Ten minutes later, 'So, is there anything sort of traditional that you're supposed to have for dessert? Pumpkin pie eh? Ok, pumpkin pie it is.'
Consider the dilemma. You are a habitual baker, due possibly to the English upbringing, where processed food was always so much more expensive than basic ingredients that everybody cooked from scratch. You have never, however, eaten pumpkin pie. You have not—to date—seen, tackled or cooked with a pumpkin at all. You have no idea what it should look like or taste like; all the recipes tell you to start with a cup of cooked pumpkin but omit the step beginning, first, attack your pumpkin. Yes, yes, yes, I know you can buy it in cans now, but I didn't then and it was an emergency. So, I chickened out and went to the supermarket for the frozen variety.
Having finished shopping a few hours before we were due to appear for scalloped-potato-shaped celebrations, I decided to leave my prized pie in the car. The theory went that it should have thawed nicely by the time we were ready to eat it. You are naturally way ahead of my here so I'll cut to the chase.
Picture the scene, a dining table full of family and friends have had a little rest after the world's scrummiest Thanksgiving Dinner. My son and I are feeling welcome and happy and all in favour of this New World tradition. We all begin to feel as though we could manage a spot of something dessertish and I step proudly into the kitchen to dish up the pumpkin pie.
There is a pause. A silent moment that lasts a fraction too long. 'Um, is it meant to be all runny like this?'
'Not really. How long did you bake it for?'
The mess was total. A sticky, slimy unbaked pastry case and raw filling slopped all over the inside of a very soggy cardboard box. We tried to bake and eat what was left...but more for fun than for food.
I still take dessert when invited for meals. I am greeted at the door on each occasion with a cheery, 'Did you bake it this time?'
Being a welcoming bunch, my pals usually have someone at the table who hasn't heard the story and when together we take it in turns to try and explain, amid happy guffaws, why pumpkin pie is so funny. I rather like being part of someone else's family folklore, and ten years later I have even learned how to make pumpkin pie but I can't say that I like it very much.
Thanksgiving definitely takes practice.
Carolyn has been a psychologist, a paramedic, a proof reader and several other things, not all of them beginning with P. A trucker, for example. She began writing the day she decided to try and see the world...doing both just to find out if she could. When excerpts from her first travelogue were published by the Rough Guides she decided to keep on doing both. It made a change from teaching CPR to nightclub bouncers and designing wedding cakes.
Carolyn maintains that she is either multi-faceted or easily bored, depending on who is enquiring. Born and bred in London, England, Carolyn and her son Ben are now Canadian citizens and live permanently in Kitchener, Ontario.
Her Armchair Emigration series began with A Year on Planet Alzhemier, continues with Trucking in English and will be complete when Bed and Breakfastis published in 2014. There will then be a satirical novel, a couple of children's books and some serious stuff...
About Trucking in English
"So here's the plan. I'm going to train to drive a truck and go long-haul. I can get paid and maybe write a book at the same time. What do you reckon?"
"Go for it Mum, how bad can it be?"
This is the tale of what happens when a middle-aged mum from England decides to actually drive 18-wheelers across North America instead of just dreaming about it. From early training (when it becomes apparent that negotiating 18 wheels and 13 gears involves slightly more than just learning how to climb in) this rookie overcomes self-doubt, infuriating companions and inconsiderate weather to become a real trucker.
She learns how to hit a moose correctly and how to be hijacked. She is almost arrested in Baltimore Docks and survives a terrifying winter tour of The Rockies. Nothing goes well, but that's why there's a book.